The Queen Elizabeth 2, or QE2 as she is commonly known was the flagship of the Cunard Line for nearly 40 years. QE2 made her maiden voyage in 1969 and was one of the last great Transatlantic liners. At 70,327 tons and 963 feet long with a top speed of 32.5 knots she is also one of the fastest and grandest passenger vessels ever built. QE2 is arguably the most famous liner in the world.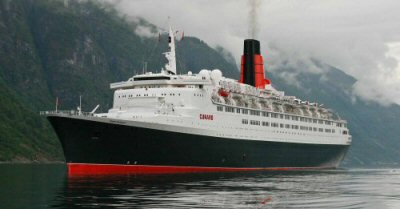 Photo courtesy Reinhard Sylvester
QE2 is now docked permanently in Dubai. The Costa Classica calls in at Dubai once a week so sometimes you can catch QE2 on the webcam.
For information about the Queen Mary 2 see the QM2 web site
Maritime books by Sam Warwick & Mike Roussel:
Shipwrecks of the Cunard Line (2012), The Union-Castle Line - Sailing Like Clockwork (2015) and Shipwrecks of the P&O Line (2017).