News - Archive - Ice Certificate
Cunard Line

QUEEN ELIZABETH 2
Land of the Midnight Sun

Voyage No. 1134
20th July - 4th August 1998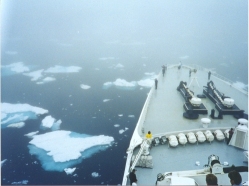 Record of QUEEN ELIZABETH 2's first contact with
THE ARCTIC ICE FLOW
on
Sunday, 26th July 1998
The following information was recorded in the ship's log:
The QUEEN ELIZABETH 2 encountered the ice flow in position
Latitude 77 05'N
Longitude 12 57.2'E
The ice flow consisted of moderate to large growlers,
open ice and very open ice and covered an estimated 80 square miles.
The ice was first sighted at 1610 hrs, 20.4 nautical miles west of Spitzbergen.
The ship's speed was reduced from 30 knots to between 1 and 3 knots
until the ship was clear at 2316 hrs.
Captain R.W. Warwick
Master, Queen Elizabeth 2
Ice Certificate